Deputy Managing Trustee
Pratip Banerji
Co-Founder & Deputy Managing Trustee, PBHRF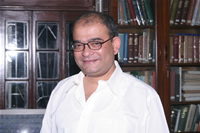 Dr Pratip Banerji, the fourth generation homeopath in the family, did his post graduation from London College of Classical Homoeopathy. After post graduation, Pratip was invited to appear before the Board of the British Registrar of Complementary Physicians, which he did. Thereafter he received a letter from the Board asking him to give the address of the place where Pratip would like to set up his practice in the UK, so that the Board could refer patients to him. But Pratip returned to India to set up his own practice in Calcutta to follow the footsteps of his father and serve his countrymen. He further completed his Doctor of Medicine (M.D.) from the JRN Rajasthan Vidyapeeth (Deemed University), Udaipur, India.
Dr. Pratip Banerji brought scientific approach and international standards to allow verifiability of their research data. The process of data accrual and documentation according to the highest international standards was introduced by him. This has made their research acceptable to the international scientific community. His vision into the future of homeopathy has greatly encouraged the PBHRF in its research collaborations with premier international scientific establishments thus gaining a foothold for homeopathy in the international mainstream medical platform.
Keeping in view the family tradition to give medical aid to the under privileged and never to loose contact with one's grass root, Pratip runs a charitable clinic where patients are treated for free. The charitable clinic is an institution by itself, especially in a developing country like India where 90% of the population is below the poverty line.