Infrastructure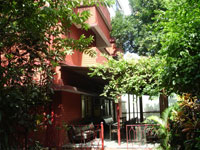 The Prasanta Banerji Homeopathic Research Foundation is located in the heart of the busy city of Kolkata, India.
The area that the research foundation uses for its office is located in the premises of 10/3/1 A Elgin Road, Kolkata 700020, India, which houses the clinic of Dr. Prasanta Banerji and Dr. Pratip Banerji.
Our team consists of the principal doctors, very able, fully qualified assistant physicians – who help the principal doctors to deal with the large volume of patients, office executives and data entry personnel – who are the essential for the documentation and administration of the clinics, medicine compounders - and other staff i.e. Cleaners, Security etc. Each play their role and are essential to the functioning of the institution.
Satellite Clinic
Since 1993, the Foundation has consciously endeavoured to extend homoeopathic treatment facilities to underprivileged people in rural and semi-urban areas outside Kolkata – by encouraging trained homoeopaths attached to the clinic to practice and attend patients on fixed days of the week, during fixed hours in these areas. The opening of these clinics has helped spread awareness about homoeopathy, and also brought proper homoeopathic treatment facilities closer to people, who have really needed them – mainly on account of their low costs. Moreover, patients living in areas near these clinics who earlier used to go to Kolkata for treatment by the Foundation's homoeopaths, have also been greatly benefited.
Our Clinic