Family History
Homeopathy as a system of medicine is only about two hundred years old. Of these two hundred years, the Banerji family has been associated with it for over hundred and fifty years.
Homeopathy was a phenomenon started in Germany by Samuel Christian Friedrich Hahnemann. It came to India in 1810 with the German missionaries who treated the poor charitably and converted many to Christianity. About mid- 1800, Bengal had a "Renaissance d'art", literature and culture and great intellectuals like Raja Ram Mohan Roy, Ishwar Chandra Vidyasagar, Bankim Chandra Chattopadhyaya, Abanindranath Tagore and Swami Vivekananda. They helped transform the Indian civilization to great heights and awaken the Indian Freedom movement with their writings, speech and debates. These intellectuals were also the beneficiaries of the early homeopathic medicinal treatments brought to India.
Pundit Iswar Chandra Vidyasagar (1820-1891)

- Pundit Ishwar Chandra Vidyasagar, Sanskrit scholar, educator, reformer, writer and philanthropist from Bengal, was considered to be one of the greatest intellectuals and activists of the nineteenth century. He was born in the Banerji family at the village of Birsingha in Midnapore district of Bengal.
Vidyasagar suffered from intense migraine headaches and was treated in Kolkata by homeopathic medicines prescribed by Babu Rajen Dutta, an aristocrat who studied homeopathy from the Germans and the French, following Hahnemann's ideology. Vidyasagar was so impressed by the results that he persuaded his brother, Ishan Chandra, to take an interest in this treatment form, and take up the learning of homeopathy and treat the very poor of their village as a charitable enterprise. He believed that in the field of social reform, the poor and downtrodden needed medical aid for cure of their illnesses and at a cheaper cost. He was convinced that homeopathy was the answer.
---
Ishan Chandra (unknown -1903)
ISHAN CHANDRA, youngest brother of Pundit Ishwar Chandra Vidyasagar took interest in the learning of homeopathy and supported his elder brother to spread this mode of treatment. His interest in homeopathy spurred him to study the science. Thereafter he started a charitable practice for the socially less-than-privileged and practiced it till his death in 1903.
Dr. Pareshnath Banerji  (1891 – 1971)
Ishan Chandra's son PARESH NATH BANERJI started homeopathic practice at Mihijam, a quiet village in the state of Bihar in India. He was a saintly man and his name and fame attracted patients of neighboring villages and gradually spread all over India and even outside the country so much so that he was known as "RISHI" (the sage) as he embodied the qualities of a saint for his honesty, humanity and above all his feeling for the less-than-privileged and the downtrodden in Mihijam and the rest of the Indian populace.
His patients included such notable names such as Presidents Rajendra Prasad, Sarvepalli Radhakrishnan and Prime Minister Jawaharlal Nehru. The fame of Pareshnath spread throughout India and the neighboring countries.
Research in Homeopathy and the introduction of Homeopathic medicinal mixtures in India are due to the Late Dr. Pareshnath Banerji of Mihijam, a nephew of Ishwar Chandra Vidyasagar, the social reformer and educationist.
---
Dr. Prasanta Banerji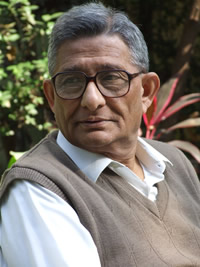 Born in Jamalpur, Bihar, on October 17, 1933, Prasanta is the second son of Pareshnath Banerji. As a student he assisted his father to cope with the huge number of patients who came for treatment every day to the Mihijam. He passed his I.Sc from Vidyasagar College, Calcutta and then he studied in the INSTITUTE OF HOMOEOPATHY, Mihijam. After getting his fellowship from the Institute in 1956 he became a full-fledged doctor and practised in his father's clinic at MIHIJAM, Bihar. Around 1958 it occurred to him that a wider field would give him more scope to utilise his knowledge of Homoeopathy all over the country and benefit the teeming millions to avail of the opportunities for cheaper means of treatment for the cure of their illness. He thought of Calcutta as a venue for his practice. Dr. Prasanta Banerji migrated to Calcutta in the year 1958 and established a clinic in Kolkata. By 1986, the pressure of work made it a necessity to establish a second clinic.
Dr. Prasanta Banerji inculcated the same prescription form as introduced by his father Dr. Pareshnath, modified and improved it into a concrete treatment form bringing lucidity and user friendliness in homeopathy.
The long family experience with millions of clinical trials and the use of modern diagnostic tools such as detailed blood examinations, X-rays, CAT Scans, MRI techniques further helped the treatments of Prasanta Banerji. He standardized the techniques and medicinal applications for particular ailments with fixed ingredients and doses and started keeping detailed records of the patients and their treatments. He found very positive results in the cure and remission of brain, stomach and esophagus tumors with homeopathic treatments without any invasive process such as surgery.
---
Dr. Pratip Banerji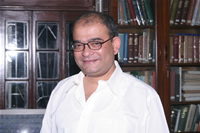 Pratip Banerji, the fourth generation homeopath of the family, is the only son of Dr. Prasanta Banerji. Pratip took an active interest in Homeopathy since adolescence. He was born in 1964, January 16 in Mihijam, Bihar, India. He did his BHMS (CU) from the D. N. De Homeopathic Degree College and Hospital, Calcutta – placed 2nd in the University with Honours in Pathology and Materia Medica. Pratip did his Post Graduation from the London College of Classical Homeopathy, and was awarded PG.LCCH with Diploma in Teachers Training. After post graduation, Pratip was invited to appear before the Board of the British Registrar of Complementary Physicians, which he did. Thereafter he received a letter from the Board asking him to give the address of the place where Pratip would like to set up his practice in the UK, so that the Board could refer patients to him. But Pratip returned to India to set up his practice in Calcutta to follow the footsteps of his father and serve his countrymen.
He further completed his Doctor of Medicine (M.D.) from the JRN Rajasthan Vidyapeeth (Deemed University), Udaipur, India.
Deputy Managing Trustee of the PBHR Foundation, Pratip has presented and co authored many scientific papers in various international conferences along with his father Prasanta Banerji. He has set up his own practice in Kolkata and also runs a charitable clinic, started by his father, Prasanta Banerji. The clinic is an institution by itself, especially in a developing country like India where 90% of the population are below the poverty line.