The Saga Of Neo Homeopathy - The Legacy To Humanity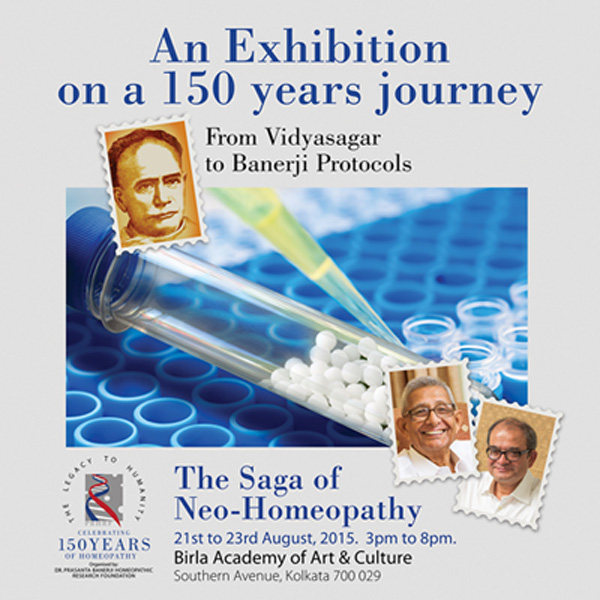 We are celebrating 150 years of the introduction of Homeopathy into the Banerji family of Birsingha, Mihijam and subsequently of Kolkata, India.
The story began with Pandit Ishwarchandra Vidyasagar (Banerji) and his youngest brother, Ishanchandra, and was taken forward by Preshnath, Ishanchandra's son who is better known as Dr. P Banerji of Mihijam. Pareshnath's son Prasanta, and his son, Pratip are still carrying on the legacy and working towards giving Homeopathy a scientific acceptance internationally.
To celebrate this occasion, we organised a photo exhibition on Thursday, 20th of August 2015, at Birla Academy of Art & Culture, 108, Southern Avenue, Lake Gardens,Kolkata- 700029. His Excellency The Governor of West Bengal, Sri Keshari Nath Tripathi graciously inaugurated this exhibition as Chief Guest.
The exhibition was open for all from 3 p.m.to 8 p.m., from Friday 21st August, 2015 to  Sunday 23rd  August, 2015.
We would be posting the galleries online soon.
Reviews/News on various media on the exhibition:


Weblinks
Prasanta Banerji Homeopathic Research Foundation hosts photography exhibition in Kolkata
Ishwar Chandra Vidysagar's tryst with homeopathy in photos
Homoeo cure for cancer eyes recognition
Long-lost diary hints at Vidyasagar's tryst with homoeopathy